Eko Desking & Storage
Budget commercial desk & storage solutions for the small to medium office.
Desks/workstations have a solid 25mm worksurface on a 16mm melteca carcass.
Ready to be delivered to you within 5 - 8 working days.
Freight free to ground floor urban business address. Please enquire for upper floors and domestic deliveries.
Basic assembly is required. We can provide installation/assembly options for you.
Listed prices exclude GST.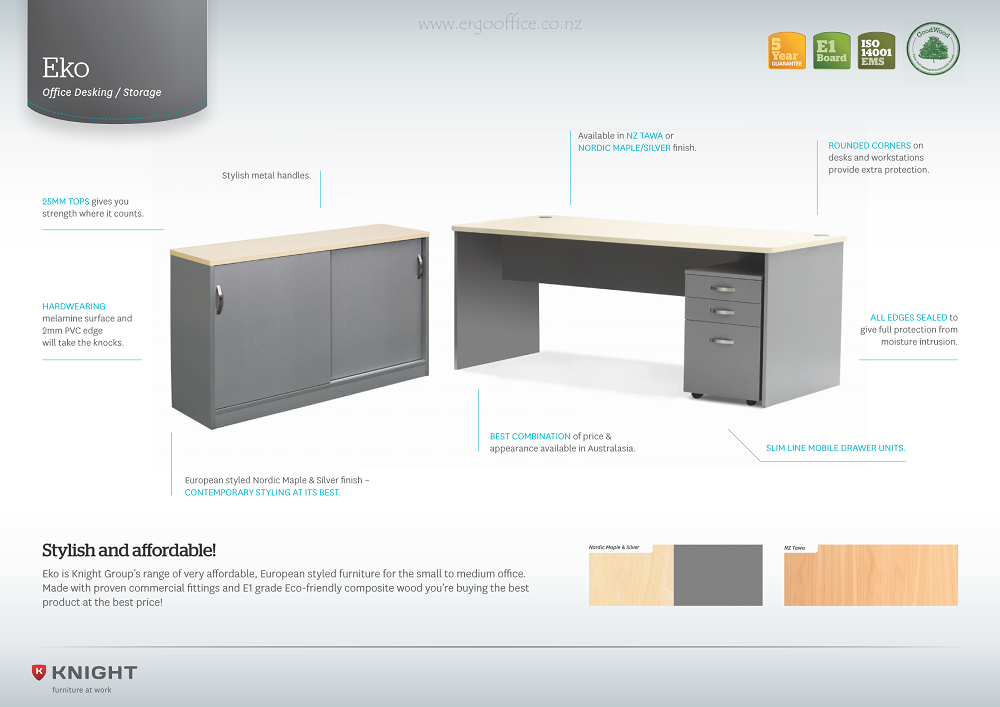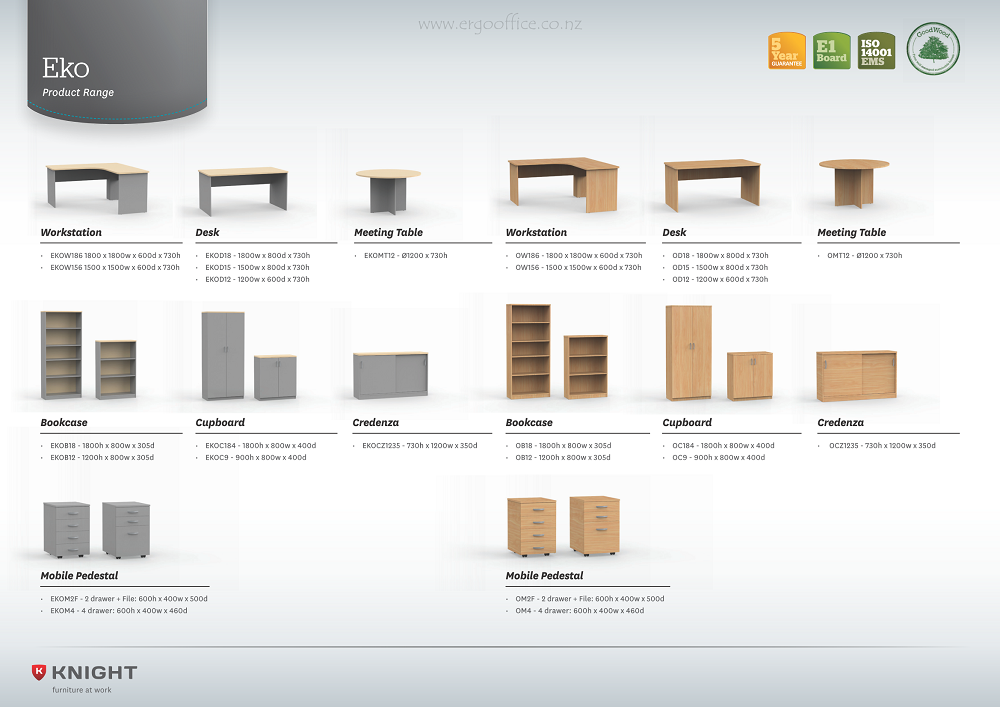 | | | |
| --- | --- | --- |
| Eko corner workstation: 1500 x 1500 x 600mm | Finished in Tawa or mix of Nordic maple & silver grey melteca | S299.00 |
| Eko corner workstation: 1800 x 1800 x 600mm | Finished in Tawa or mix of Nordic maple & silver grey melteca | $365.00 |
| Eko desk: 1800 x 800m | Finished in Tawa or mix of Nordic maple & silver grey melteca | $262.00 |
| Eko desk: 1500 x 800m | Finished in Tawa or mix of Nordic maple & silver grey melteca | $236.00 |
| Eko desk: 1200 x 800m | Finished in Tawa or mix of Nordic maple & silver grey melteca | $164.00 |
| Meeting table 1200mm diameter | Finished in Tawa or mix of Nordic maple & silver grey melteca | $248.00 |
| Bookcase: 1800 x 800 x 305mm | Finished in Tawa or mix of Nordic maple & silver grey melteca | $253.00 |
| Bookcase: 1200 x 800 x 305mm | Finished in Tawa or mix of Nordic maple & silver grey melteca | $183.00 |
| Cupboard: 1800 x 800 x 400mm | Finished in Tawa or mix of Nordic maple & silver grey melteca | $403.00 |
| Cupboard: 900 x 800 x 400mm | Finished in Tawa or mix of Nordic maple & silver grey melteca | $237.00 |
| Credenza: 1200 x 350 x 730mm high | Finished in Tawa or mix of Nordic maple & silver grey melteca | $317.00 |
| Mobile pedestal: 2drw _ file drawer: 600 x 400 x 500mm deep - not locking | Finished in Tawa or mix of Nordic maple & silver grey melteca | $197.00 |
| Mobile pedestal: 4 drawers: 600 x 400 x 500mm deep - not locking | Finished in Tawa or mix of Nordic maple & silver grey melteca | $197.00 |