Supplying Sit/Stand desks New Zealand wide
** Electrically adjusted ** Manually adjusted ** Technician adjusted **
Are you looking for a Sit/Stand desk? Look no further!
We specialise in standing workstations and ergonomic sit/stand desks. Some of our ranges can be custom made to suit your requirements. Large quantity discounts available.
We have been in the industry for 25 years and have a wealth of product knowledge, so please contact us for further specifications.
Looking for more options? Take a look at our Height Adjustable Workstations page.
Don't forget your Anti-Fatigue Mat.
Do you want to keep your desk? But, also have the flexibility to stand at work. Then Buy a Deskalator.
Check out our price for the ARISE DESKALATORS. Oh! and no need to rush because this is our everyday price. (Not a SALE)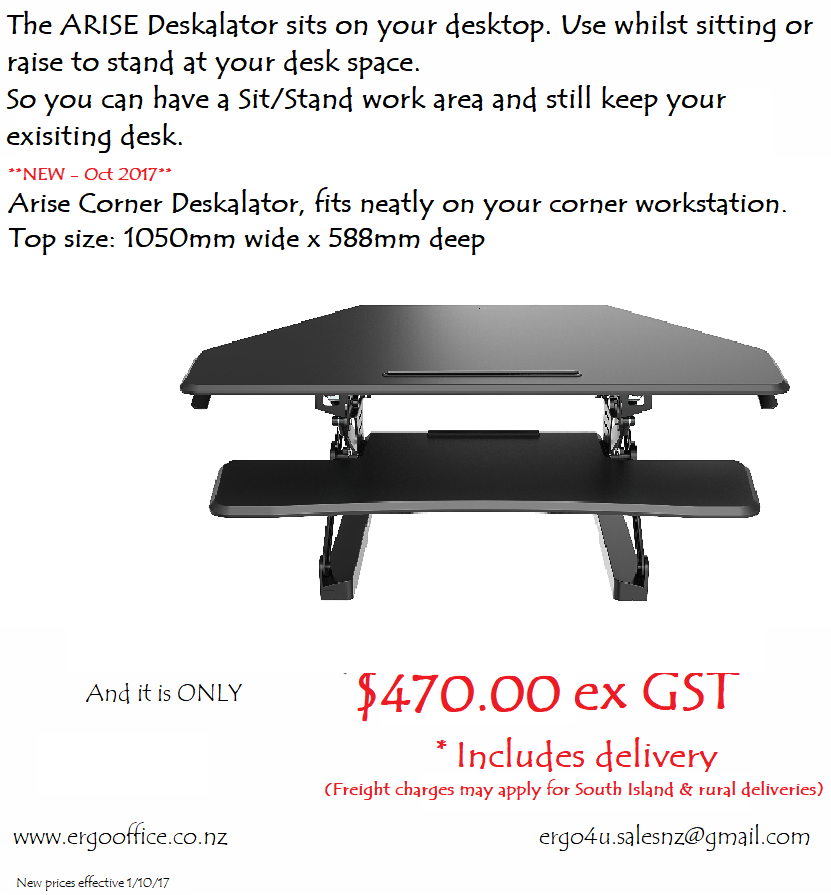 Please click on above image for info sheet
Please click on above image for Info sheet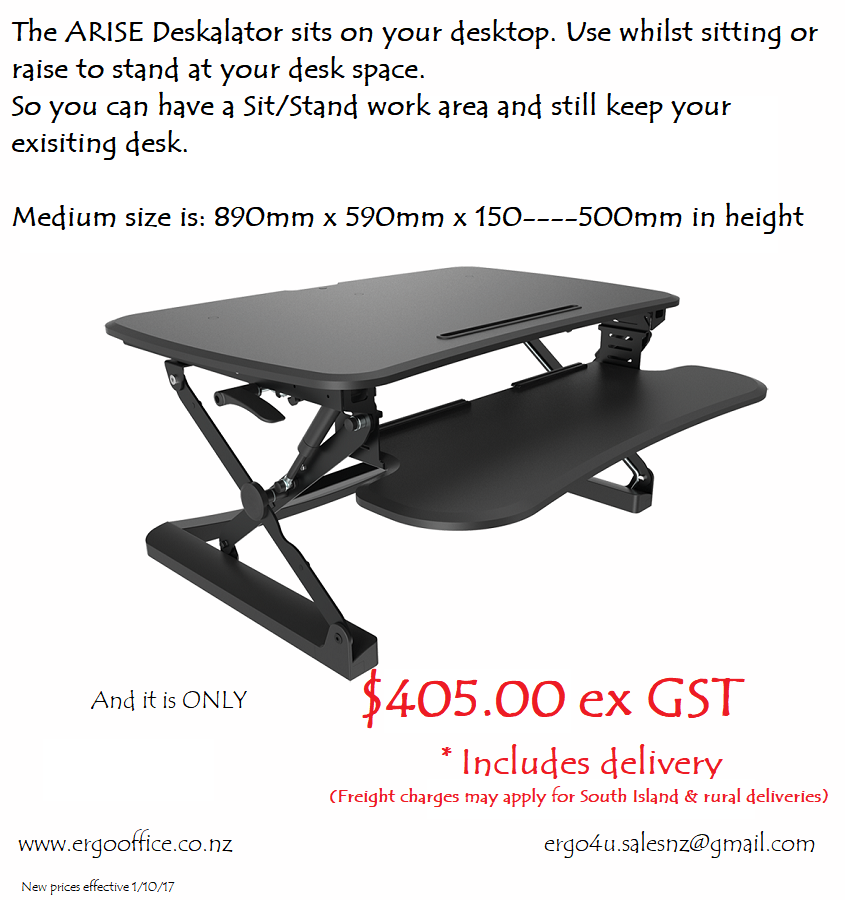 Please click on above image for info sheet

The below desks are priced for the standard 1800 x 800mm(700mm) tops - Other sizes are available: 1200/1500mm & custom sizes as requested
Freight & Installation/Assembly (if required) to be quoted on request
Please click on the below desk images for further information on specifications & available colours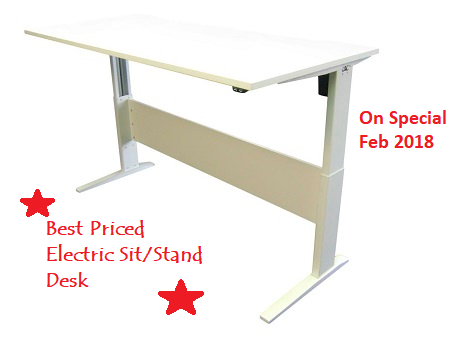 Santo BKE
Priced @ $540.00 ex GST - White frame & top only - *February 2018

Ascend V2, Twin Motor, 3 column frame, anti-collision, programmable heights
Priced from $880.00 ex GST
Tidal, single drive motor - Optional frame colours
Priced from $726.00 ex GST

Agile, triple column frame, programmable heights
Priced from $895.00 ex GST

Agile, twin column frame, programmable heights
Priced from $770.00 ex GST

Cubit electric highrise
Priced from $745.00 ex GST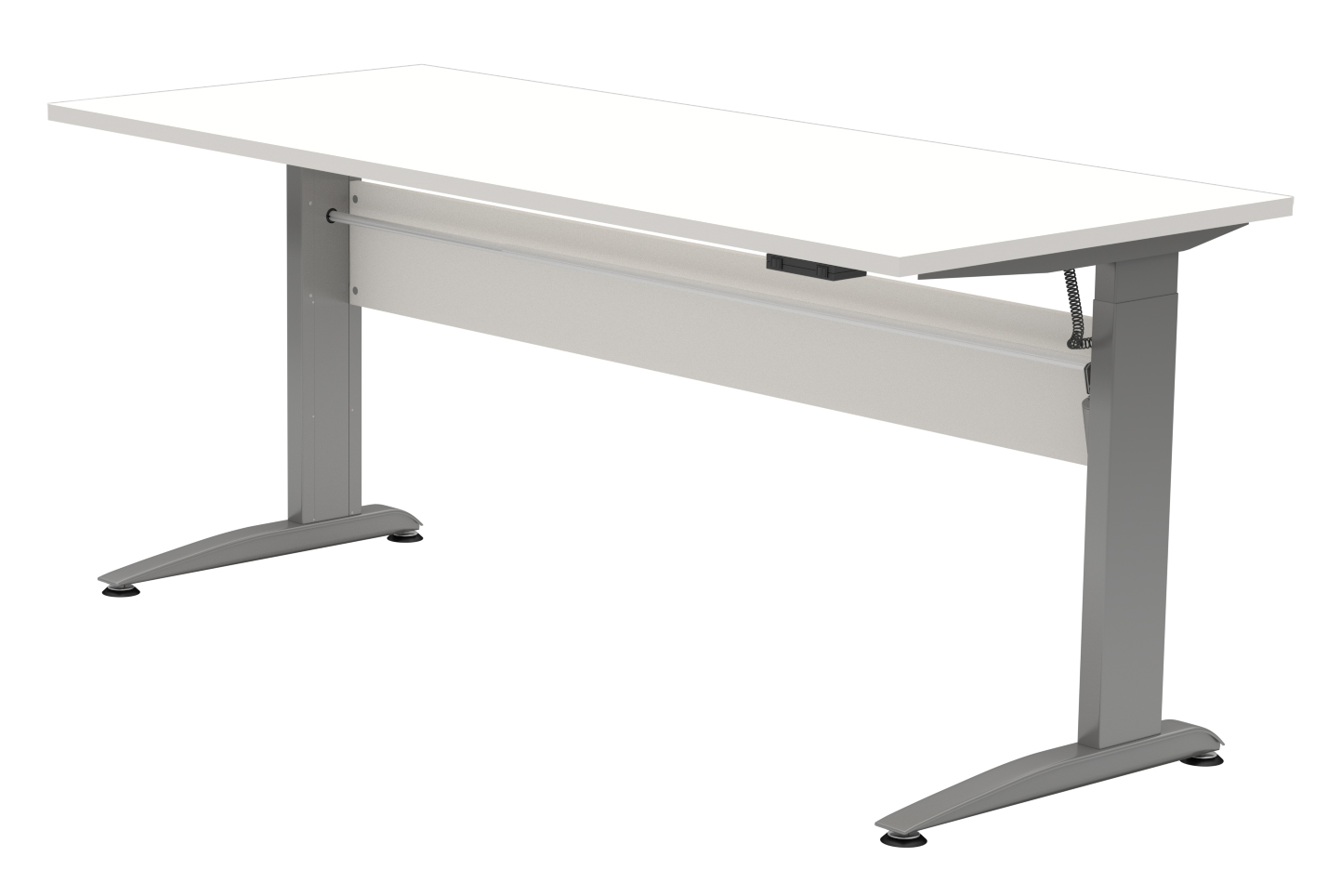 Electron
Priced from $660.00 ex GST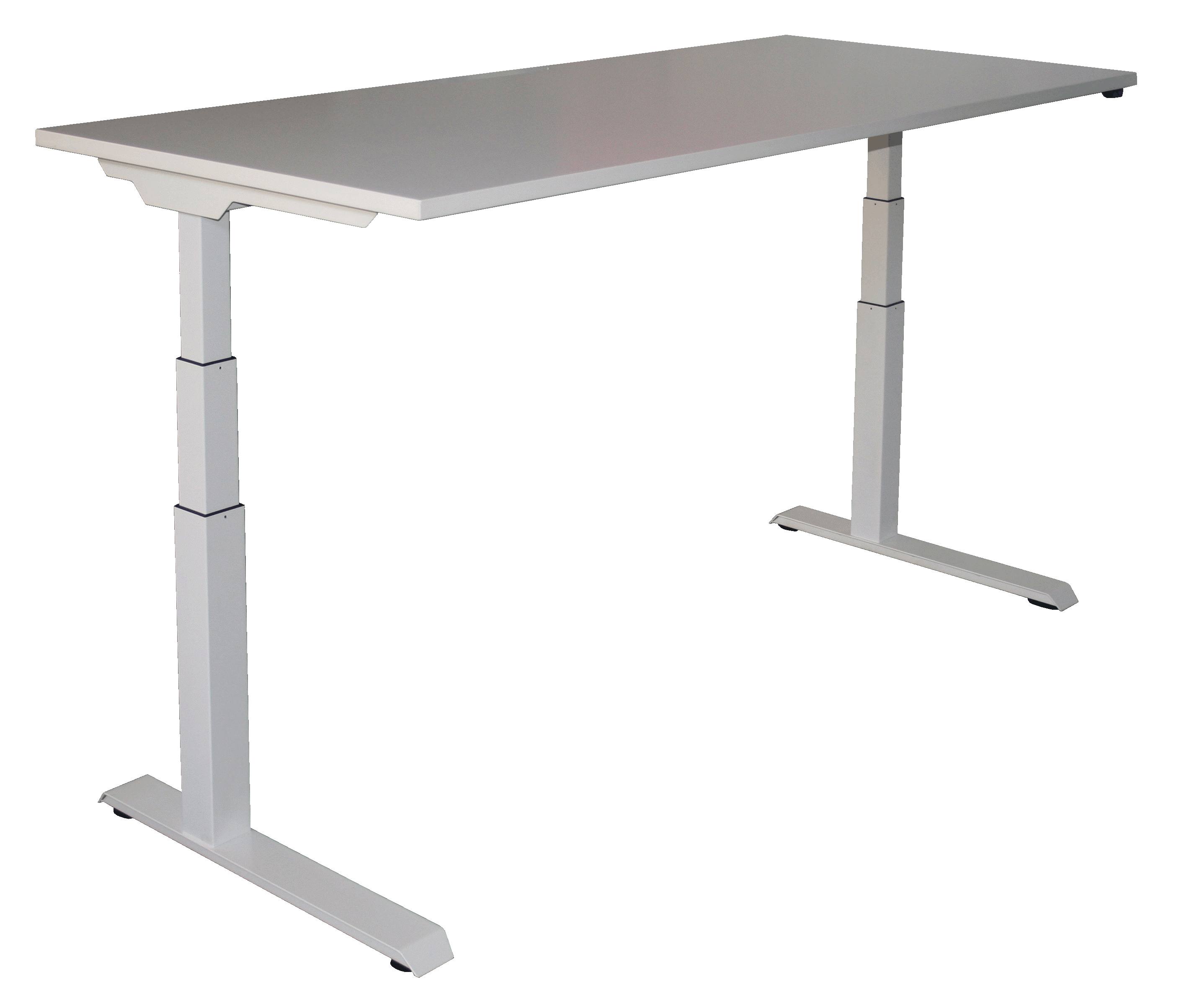 ET-2
Priced from $910.00 ex GST
Ascend V2 double desk, Twin Motor, 3 column frame, anti-collision, programmable heights
(screen is for display purposes and is not included in the price)
Priced from $1872.00 ex GST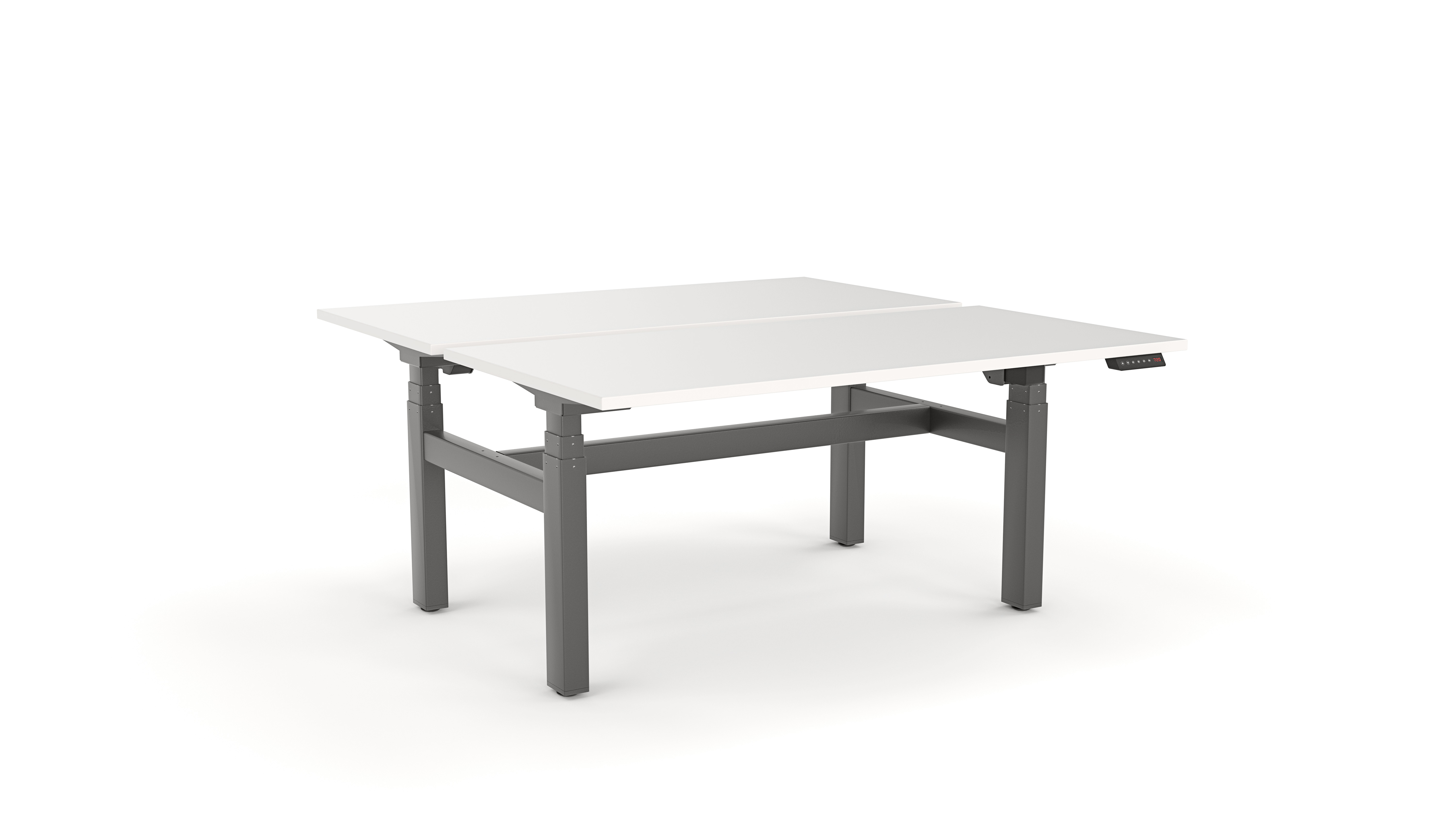 Agile double desk, triple column frame, programmable heights
Priced from $1790.00 ex GST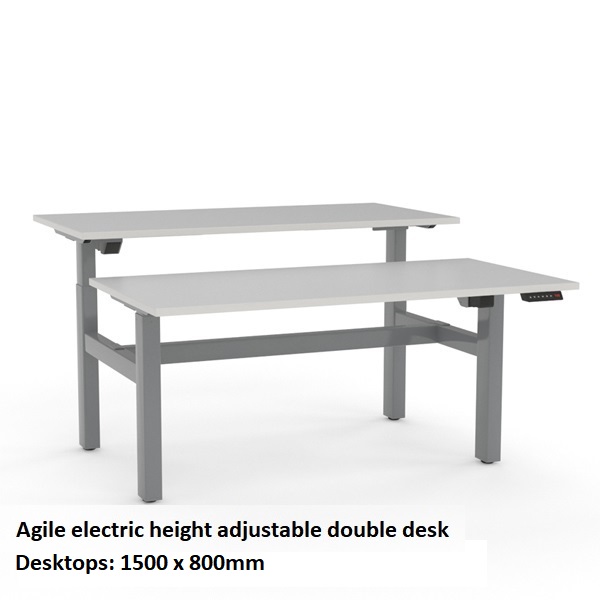 Agile double desk, twin column frame, programmable heights
Priced from $1548.00 ex GST
ET2 - (Includes 2 x E panel screens & docking rails)
Priced from $2390.00 ex GST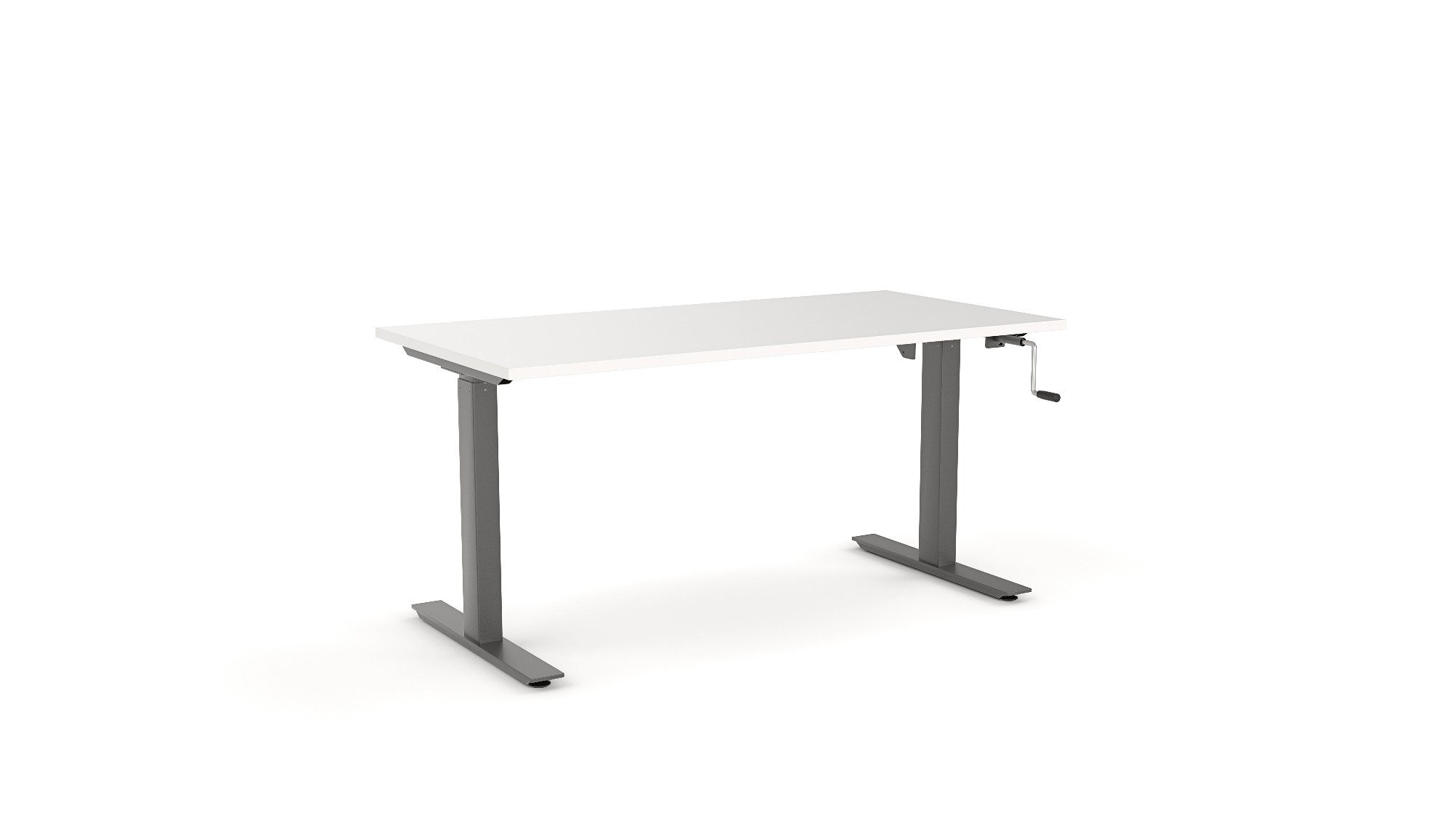 Agile - Winder adjustable desk
Priced from $655.00 ex GST